OUR PREMIERE PUBLICATIONS

BORLAUG; Volume 1, Right off the Farm. 1914 – 1944 divulges the searing experiences that developed Norman Borlaug's dedication, drive and motivation to help the hungry. A powerful blend of biography, history, science and adventure, it relates in lively prose how young Borlaug often suffered hunger and how high-yielding seeds (corn, in this case) lifted his own family from poverty in rural Iowa. It also highlights Angels of Deliverance—most of them strangers—who selflessly interceded when his path to progress seemed forever blocked. In addition, its pages are sprinkled with surprises, coincidences, "can-do" characters and personal dramas such as during the time all Americans were forced to diet because the wheat crop had failed. Beyond all that, young Borlaug lives through the 1918 flu, the Great Depression, joblessness, a forest fire and very much more.

Paperback. Version 1.1: October 2009. 278 pages; 62 illustrations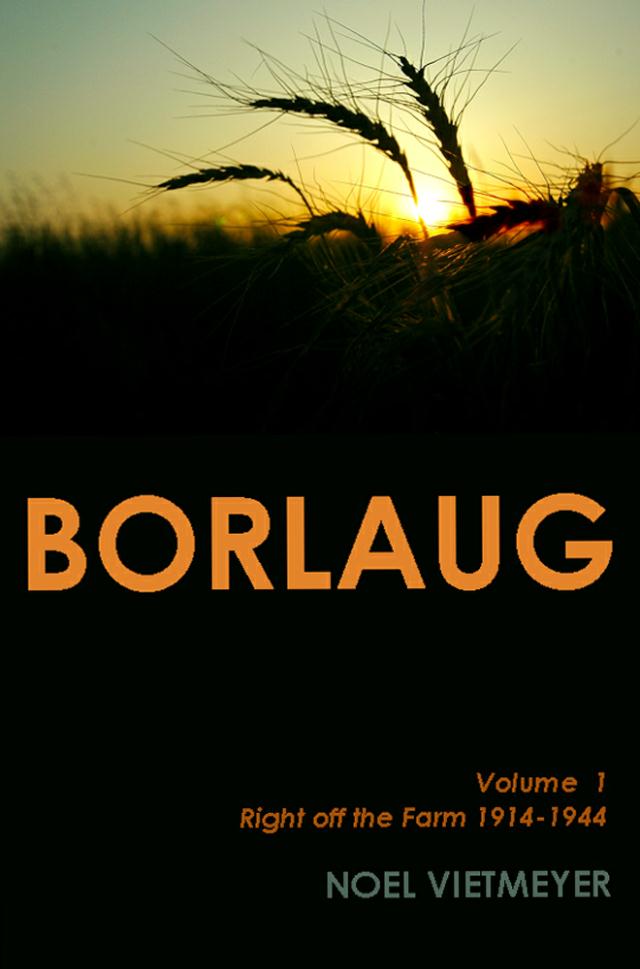 BORLAUG; Volume 2, Wheat Whisperer. 1944 – 1959 exposes the amazing drama during the years in desperately hungry Mexico when Borlaug developed the wheats that ultimately saved millions from starvation. At the time, no one approved of his research and no farmer would plant his seeds. He has to fight to provide Mexico the food it needs. These pages feature numerous amazing incidents when, for instance, he nearly loses his life, nearly gets deported, and is forced to work out of a derelict research station in the Sonoran Desert with neither electricity nor sanitation but plenty of rats. In the end it is the farmers who become his greatest supporters and protect him from those who wish him ill. The text is lively and informative, and is supported by more than 60 photographs, most of them shot by a professional photographer who was on site during that era.

Paperback. Version 2.0: October 2009. 304 pages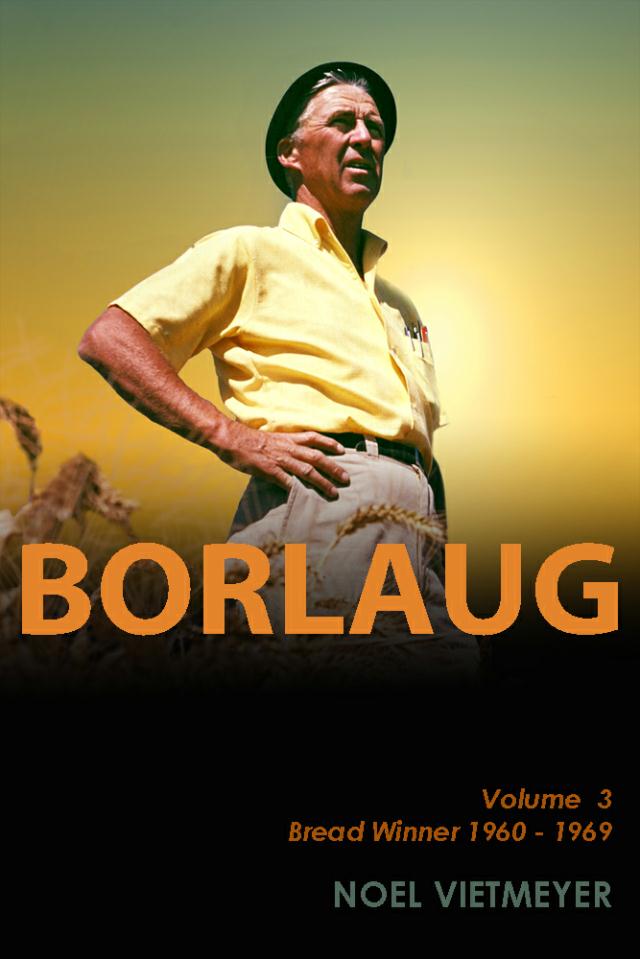 BORLAUG; Volume 3, Bread Winner. 1960 – 1969 shows how, during the decade of the 1960s, Borlaug's seeds almost miraculously reached Asia by accident. Here's where he begins playing a part in history: In 1964 people passed the 3 billion mark; a third were under 30, and in the decades ahead they'd have billions more children. To the experts the future was clear; Paul Ehrlich laid it out in 1968: "The battle to feed humanity is over," he wrote, "In the 1970s the world will undergo famine — hundreds of millions of people are going to starve to death in spite of any crash program embarked upon now."

Borlaug Volume 3 highlights dozens of dramas that ended up proving the experts wrong. The text is lively and informative, and is supported by 46 photographs.

Paperback. Version 1.0: October 2010. 242 pages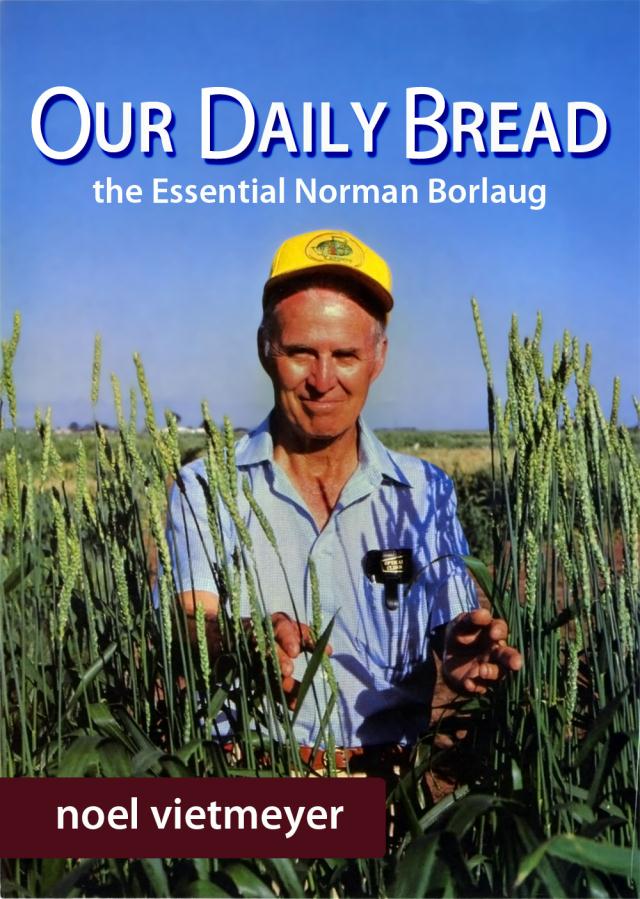 BORLAUG

Borlaug is a biographical series revealing how humanity flirted with a great disaster. These suspenseful volumes have been dubbed The World's First Cereal Thriller. Without the myriad twists and turns in a single scientist's career a sizable proportion of the human race would by now have starved.

Winner of the Nobel Prize and the Congressional Gold Medal, Norman Borlaug is an inspiration to everyone, young and old. His old story provides insight into the challenges we face in the future.

But for all that, the Borlaug story is a pleasure to read. It is a scientific detective story with millions of lives on the line.

OUR DAILY BREAD; The Essential Norman Borlaug. In the late 1960s a sudden surge in wheat and rice caught the world by surprise. Experts had proclaimed that the world could produce no more food, and that continued human population growth signified an inevitable and never-ending global famine.

Behind the unexpected leap in cereal production stood a humble Iowan who'd been born half a century earlier with no prospects other than to spend his life growing the food to feed his own family. This book tells the almost miraculous series of events by which Norman Borlaug found his way from obscurity to the pinnacle of humanitarian achievement.

Today Borlaug is shaping up as one of the most important role models for world stability. Back in the 1960s when his seeds hit the international scene, the human population was 3 billion and global food production had flat-lined. Then India, to mention just one example, began planting his



For more details, more insights, more behind-the-scenes skullduggery take the time to enjoy the wholly different and more extensive accounts in THE BORLAUG TRILOGY:

seeds and went from producing 12 million tons of wheat to over 80 million tons per year. Borlaug's gift powered similar increases in almost a hundred wheat-growing nations. And his seeds are also why India and China no longer have famines, which in turn is why both have become superpowers.

Want to know how this humble scientist pulled off that miracle? The place to start is OUR DAILY BREAD; The Essential Norman Borlaug. You'll be amazed at what he had to endure and how many people tried to sabotage his selfless efforts to save millions of lives. The text is lively and informative, and supported by 31 photographs. Version 1.0: October 2011. 284 pages